Best Alcohol Rehab
Get Healed at The Holistic Sanctuary
Most Exclusive Inpatient Alcohol Rehab
Many people would say that all alcohol rehabs and treatment approach works. However, this is proven wrong by many cases of relapse in many individuals who have undergone the traditional way of alcohol addiction treatment. Here at The Holistic Sanctuary, our team of dedicated experts are committed to helping you recover and lead a fuller, happier, and healthier life. With our holistic and luxury rehab, we aim to help individuals who want to get back to their lives before alcohol addiction took over. We change how most people view alcohol rehab by creating a luxury retreat-like experience for our guests.
Immersing yourself into Holistic Healing and Wellness, there are only a few ways to truly help people find the healing they need from alcohol abuse. Being addicted to alcohol stems from countless reasons, and our goal is to identify the very root of the problem. Through innovative therapies and plant-based, holistic non-toxic treatments, we create a holistic alcohol rehab for our guests. We aim to take healing to another level and ensure that our treatment programs target the mind, body, and soul of the individual.
Alcohol rehab must not make you feel isolated and lost. It must be a treatment that will lead you to complete recovery. The Holistic Sanctuary offers that and more.

Our intensive inpatient private rehab program requires the guest to stay at the treatment center for a desired number of days. This is where we closely monitor each guest to ensure that they are safe and comfortable. But unlike the traditional luxury treatment center, The Holistic Sanctuary in located in an oceanfront high rise resort surrounded by beautiful private beaches, where the sound of the waves calm you and the fresh air cleanses you.
Our alcohol rehab stands out for its high success rate in dealing with the needs of our guests. We have known long beforehand that not everyone is going to respond to traditional western treatment methods. This is the main reason why we go above and beyond the tradition addiction treatment.
We believe that treatments and responses vary from person to person; therefore we design unique alcohol rehab programs that target the specific needs of each guest.

Experience Luxury Treatment Facilities
Seeking treatment for alcohol addiction should not feel like a chore or being sentenced to substandard treatment conditions. Unlike traditional treatment centers, where the days are filled with group meetings and talk therapy, The Holistic Sanctuary is the getaway to experience a transformational experience of total mind, body, soul healing.
Upon arriving at our luxury healing center, you will feel the warm welcome of our accommodating staff. We will do our best to make your stay as comfortable as possible by providing you your own room. We help you familiarize yourself with the environment, and allow you to take advantage of all the amenities available. We want you to be as involved and dedicated in the process. Our treatment specialist will sit with you to discuss the alcohol rehab program that will guarantee 100 percent recovery after treatment.
The Holistic Sanctuary is dedicated to help you be in your best physical and mental shape. Our Holistic Alcohol Rehab Approach encourages our guests to be in control during the whole process to make the experience more personal and effective. Aiming to break free from any form of addiction can be very difficult, so we work hard to create an environment conducive to the healing of our guests.

Let's Start Your Recovery!


The New Approach to Alcohol Rehab
The Founder Johnny Tabaie of The Holistic Sanctuary, is dedicated to helping people get better from their addiction. This is his personal mission. The issue of addiction hits close to home: he had a mother who ultimately lost her life because of her struggle with an addiction to crack cocaine and a battle with depression; a brother who committed suicide because of his meth addiction; and he himself went through a 20-year battle with addiction where he had constant thoughts of suicide that almost ended his life.
Johnny's mental health and alcohol addiction treatment center is different because he knows what it takes to heal alcoholism holistically. Almost a decade of healing alcohol addiction with the highest success rate, you can say he knows what it takes to cure alcoholism. He created a system that is a complete opposite from the traditional western medicine and embraced ancient science and eastern medicine traditions for him to finally conquer his cure himself and his addictions. From there on, he is dedicated to create an exclusive alcohol rehab center take a new approach to offering alcohol and addiction treatment.
The manner of laying the foundation for treating alcohol addiction sets The Holistic Sanctuary apart from other alcohol rehab centers. The first thing rehab centers often say is that alcohol addiction is incurable. However, The Holistic Sanctuary is adamantly against that. Other alcohol rehab centers also teach that the way to treat depression addiction and alcoholism is by prescribing dangerous medications. That's a bad idea on it own, these medications come with a whole host of side effects. Bigger problems can arise including liver and kidney failure, cancer, heart disease, stroke, suicidal thoughts, mania or even addiction to the prescription meds.
One of the things that Johnny realized is that these approaches do not work for the great majority of people dependent on alcohol, medications and other drugs. Simply put, he realized that if he had entrusted his fate to these typical drug rehabs facilities, he would have lost his battle with addiction a long time ago and would have been another victim just like his brother who committed suicide in a rehab.
We treat the whole person by healing the mind, body and soul.
Permanently End Your Addiction And Regain Your Life!
Sacred and Ancient Plant Medicine Treatment
Natural and plant-based treatments have actually been effective for many people over the years. Johnny's success in fighting against his mental health and addiction led him to create The Holistic Sanctuaries proprietary treatment: the Pouyan Method, a treatment approach developed by Johnny himself.
The Pouyan Method combines Sacred plant-based medicine with holistic techniques such as DMT, ayahuasca, and ibogaine treatments, to name a few. It has been proven so effective that even treatment resistant depression, PTSD, anxiety and medication dependency get healed and cured.
Initially, we seek to start a new state with the brain before the individual became addicted to alcohol. The Holistic Sanctuary does this by first clearing the body of any harmful chemicals,/ medications then we will restore balance to the neurochemistry to baseline state, then repair the gastrointestinal tract and reduce inflammation and candida. Next, our specialists will take steps to stimulate the body's natural transmission of serotonin, which is responsible for helping the individual get an appropriate mood and a desirable emotional well-being.
The Pouyan Method not only cures them physically, but it also thoroughly addresses their mental, emotional, and spiritual needs. Indeed, The Holistic Sanctuary is a treatment facility that offers a lifetime of healing with the (Platinum Package 90 day)
Alcohol Rehabs Before and After Holistic Sanctuary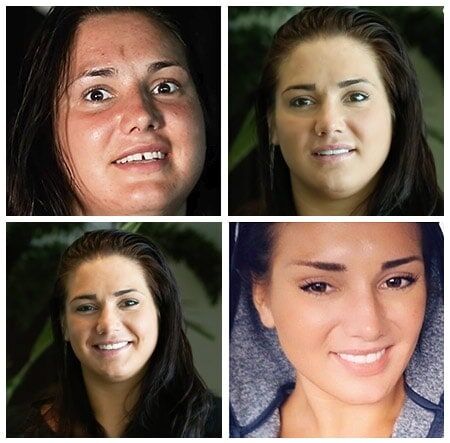 Embrace the New You
Addiction to alcohol and drugs can lead anyone to a destructive life, but seeking treatment is a great form of courage showing how much you want your life back. Breaking the chains of addiction does not have to be done painfully in a bleak rehabilitation. You can restore your life in the form of a healing vacation, which is what sets The Holistic Sanctuary apart from other rehab facilities.
No matter what the type of addiction you have, The Holistic Sanctuary is equipped with the tools, people, and methods that will help you get back on your feet cleaner and stronger. Experience recovery in a place that aims to provide a holistic rehab. We know what is best for you and we are willing to give that and more.
Here at The Holistic Sanctuary, we are extremely confident that our methods work for anyone whose goal is to make positive life changes. Our alcohol rehab does not simply end the moment you step foot out of our rehab center. We always want to give our guests the best of everything and this includes a solid after-care program. Our top priority is to see you leading a happy, healthy, and addiction-free life, which is not only possible but is definitely achievable.
With The Holistic Sanctuary, relapse can be simply a thing of the past. It does not affect your future, because it is no longer part of it and cannot be part of it. Living an addiction-free life is in your hands.
Let's Start Your Recovery!